Dinkytown.net V3 Financial Calculator Features
---
Dinkytown V3 Features
---
Since 1998 KJE Computer Solutions, Inc. through Dinkytown.net, has been providing the best financial calculators anywhere. The new V3 calculators are no exception. Designed from the ground up to be responsive and adaptive to desktop and mobile devices, the V3 calculators provide you with the best, most interactive financial calculators on the world wide web.
More information can be found at:
---
You need only one version to run everywhere - responsively designed Dinkytown.net V3 Financial Calculators
---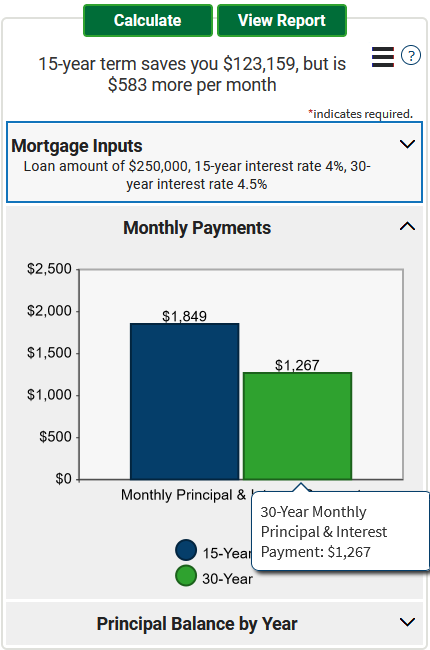 Dinkytown.net V3 allows you to deploy one set of calculators and use them everywhere you have a browser. Phones, tablets, touch pads, desktops, laptops, just about everywhere. Responsive website design at its best - only from Dinkytown.net!
"Dinkytown AutoSave" This great feature allows you to exit the calculator and then come back later, with all entries preserved. No more starting over!

ADA Compliant Full ADA complaince with WCAG 2.0 Level AA

Responsive design Lets you have one version that works virtually anywhere you have a browser

Easy branding to apply your site's look, feel and colors

No ad or spyware

Fast loading - pure Javascript and HTML5 - no plug-in of any kind required

Auto-magic resizing - optimally fits all devices and screens sizes

CSS Customization for easy color, font and style selections

Change default and settings - with familiar parameter interface

Fantastic Touch GUI - sliders, hiders, tap for help, and bigger better graphs

Widest possible device support - including support for IE8+, Chrome, Safari, Firefox, Opera, iPod, iPad, iPhone, Windows 7, Windows 8, Windows 10, MaxOS, Linux, Android Phones, Android Tablets, Kindle Fire and just about anywhere else you have a browser!

Easy install - just like another page on your website - no special server settings, no dependancy or links to outside servers
Dinkytown.net V3 - the best financial calculators anywhere just got a whole lot better!